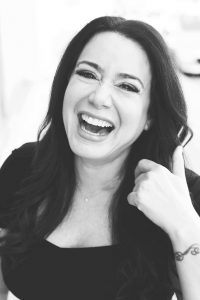 Today we'd like to introduce you to Jasmine Brinton.
Thanks for sharing your story with us Jasmine. So, let's start at the beginning, and we can move on from there.
Prior to becoming an esthetician, I was a working makeup artist for many years, satisfying my visual nature and obsession with all things Vogue. I got the writing bug, went to film school and graduated with a degree in screenwriting. While working in television, my life took a shocking turn when I tragically lost two brothers, back-to-back, within two years of each other.
I share this personal story because I deeply appreciate a makeover, whether it is beauty or life-related and my story encompasses both. Anyone who has survived multiple traumas will attest that the experience stops you dead in your tracks; like deer-in-the-headlights stops your life. In hindsight, the best thing I did for myself was to take the time to heal. I sought everything and anyone that could help me transform: grief therapy, self-help books, nutritionists, EMDR, retreats, yoga, (I became certified to teach yoga), meditation, writing and skin care (all the things I love basically).
I needed all of it so that I could elevate my spirit and soothe my brokenness. After wallowing aimlessly for a while, my insightful younger sister made an observation and suggestion that would change my life and that I am eternally grateful for. She suggested that I get my license. "License for what?" "Your esthetician license. You are obsessed with skincare, detailed-oriented and love people." It was such a magic fit becoming an esthetician that I have never looked back. I love working with people and helping them.
My love affair with skin solutions has driven me deeper into the chemistry and science behind skin care, but what motivates me is the deeply transformational gift I get to share when I enhance someone's exterior and uncover someone's true beauty to reveal that person's inner confidence. We are all uniquely beautiful, and that should be celebrated. I am grateful to be a part of each of my client's journey towards self-acceptance. I am always seeking that within myself, too.
Please tell us about Jasmine Skin Care + Lash Studio.
I specialize in both skin care, lash enhancements, and amazing makeovers. I have inadvertently become a lash expert in addition to skin because I love wearing lashes myself. There is nothing like the look of joy when client's get lashes; whether it is extensions or lifts. It is such instant gratification!
It makes everyone look more attractive and simplifies their routine. My skincare motto is to be consistent and keep it simple and straight-forward. Specifically, if I had to give a secret formula for young beautiful skin, it would be: make sure you are using your ABC's, which stands for Retinol, SPF and Vitamin C.
Retinol is simply another name for vitamin A. Namely, retinoic acid works to increase cell turnover, stimulate collagen production, fade hyperpigmentation, and help skin stay hydrated and glowing. Thanks to all this healthy turnover, retinol can treat and prevent everything from stubborn cystic acne and eczema to sun-induced wrinkles and dark spots. B stands for a Broad Spectrum SPF, and C is for vitamin C, which is an antioxidant and will protect your skin, potentiate your SPF and works synergistically with vitamin A.
The trick to using any skin care product is to find the right strength, formula, and ingredients for your skin type and condition. This is where I come in. My service is really all about educating, simplifying and demystifying the best skin care (or lashes) routine for every client that walks through the door of my shop.
If you had to go back in time and start over, would you have done anything differently?
I would not let fear stop me from pursuing my passion of skin care and beauty. Once I got out of my own way, I was able to succeed in business. Taking that first leap is the hardest, but my whole journey has been divinely guided.
Pricing:
First Time Facial $115
Lash Lift + Tint $125
Jasmine Custom Facial $130
Lash extensions $160 – $225
Contact Info:
Image Credit:
Angela Noriega – www.epiccandids.com